Wicked Ridge Invader G3 – A Compound Crossbow Review
The Wicked Ridge Invader G3 from TenPoint is the current winner for Petersen's Hunting Best Value Award. It has been said to be one of the most versatile crossbows in the low price category and as such has become a very popular buy. We gave it our #1 spot on our best crossbow list for this price range.
Let's examine it's features that make this crossbow so awesome:
Our Top Pick
Wicked Ridge Invader G3 – Crossbow
Specifications:
Velocity: 330 fps
Draw Weight: 165 lbs
Length: 37.35
Weight: 6.6 lbs
Power Stroke: 13.5
The Invader G3 is, in fact, one of the very best value-for-money crossbows in the market. It packs many more features into its design than expected from its relatively low price point.
What's Included In Package
Wicked Ridge Invader G3 – Crossbow
3×32 Multiline scope
Three Easton Magnum arrows
3-arrow quiver
Acu-Draw 52 rope cocking system
Wicked Ridge Invader G3 Crossbow Package with 3x Multi-Line Scope, 3...
BEST OF THE BEST: Invader G3 is the safest, lightest, narrowest, and fastest Wicked Ridge Invader model to date
COMPLETE PACKAGE from Ten Point's Wicked Ridge pairs their revolutionary Invader G3 Crossbow with the GEAR YOU NEED FOR...
PACKAGE INCLUDES: Wicked Ridge G3 Crossbow, TenPoint 3X Multi-Line Scope, ACU-52 Cocking Mechanism, Wicked Ridge...
Wicked Ridge Invader G3 Detailed Review: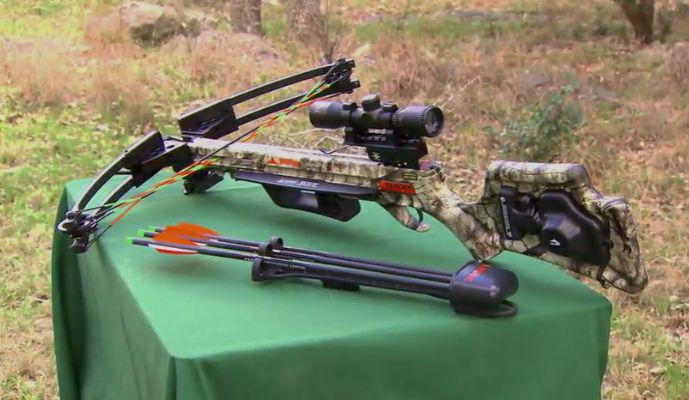 Power
The velocity of the 400-grain bolts fired from the G3 is around 330 fps with a kinetic energy of approximately 90 FPKE. This means that any animal the size of a deer and smaller can be taken out relatively easily. The Wicked Ride uses the T2 trigger that is usually present on many expensive models and features a sharp release weighing 3.5lb, ensuring the arrow's accuracy.
User Comfort
Assembling the Invader should be rather easy, as this is a standard feature of all Wicked Ridge models. Most of the parts are already fixed together, and you only need to touch up on a few details, a process that should take no more than 10 minutes for newbies.
The assembled bow only weighs 6.6 lbs. and is, therefore, very easy to handle. The design extensively uses a semi-skeletal framework for significant weight reduction. This design feature can be seen on the stock and the aluminum risers. Apart from enhancing the user's comfort, it gives the Invader a very stylish and sleek look.
Another feature that adds both aesthetic appeal and function is the mossy camouflage finish that makes it blend with any natural backdrop. Hunters who love to take a ground-blind position for their adventure will truly appreciate this feature.
The position of the safety valve on this bow is strategic, considering you have to disengage it to fire a shot manually. Its proper placement ensures that releasing the safety valve will not get you off target once you take your aim. It also reduces the placement of unnecessary weight on the stock.
Its T2 trigger gives you a top-of-the-range hunting experience that one would not expect from a crossbow in this price range. It has no creep and offers a smooth feel without being so soft as to hamper accuracy. The width of the device when cocked is a mere 19″, and this allows you to take shots even from an extremely narrow space, a unique aspect that is not the case with most crossbows in the market.
Additionally, the limbs have included an energy wheel built for TenPoint bows, making drawing the string easy. The cocking procedure is extremely simple on this bow, and the package also includes a rope-cocking aid that even costlier models sell separately.
The rope-cocking aid with this crossbow is made to self-retract, a very helpful feature to ensure it does not get lost. It reduces the 165 lbs. draw weight to slightly above 80 lbs., a conveniently manageable weight for all most archers.
Noise Suppression
The Invader G3 does not come fitted with any suppression system, and while it can be said that it's reasonably quiet, there is always an audible click when a shot is fired. This might startle some prey, and considering that the velocity of the bow's shots is not that high, your prized game might manage to scurry away before the shot hits.
It might be a good idea to invest in a string stop set to reduce the noise impact of the device. You can also purchase suppressors for the limb and frame to enhance your experience by reducing vibration and thus ensuring accuracy.
Take note that most of the sound coming from crossbows is usually concentrated toward the front. So it would be important to consider this while buying the suppressors and get something to silence the stirrup completely.
Quality of Optics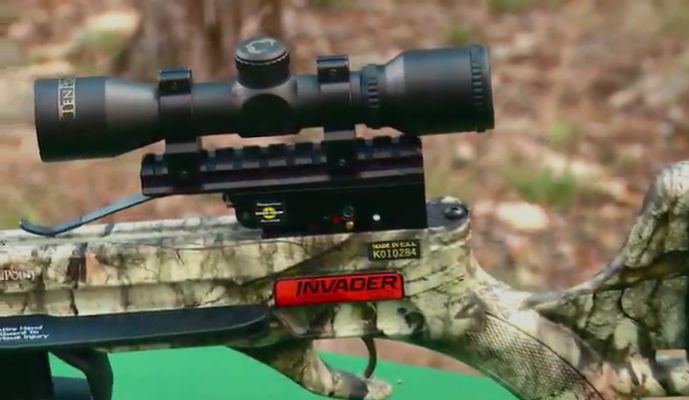 The package of the Wicked Ridge Invader G3 includes a TenPoint scope that comes pre-mounted on a fixed machined aluminum dovetail frame. The scope features multiple aim points that really help to enhance accuracy while taking shots. It does not require a lot of fine-tuning to get it to hold zero.
The scope has multiple aim points ranging from 20 to 40 yards; shooting within this range should be a breeze. Some users of the Invader have said that target shooting within the 20-yard range is so accurate that if you make two shots aimed at the same point, you risk getting an arrow into your arrow.
The one big challenge with the scope is that the illumination is weak. Considering that many seasoned hunters operate during twilight hours or very early before sunrise, where light is limited, an illuminated scope would be more efficient. When hunting in misty conditions, the limitations of this bow again come to the fore as it easily fogs up, and image quality is greatly compromised.
However, given the moderate price point of the Invader G3, it is not surprising that the features of the included scope are limited. With time, you could invest in a more advanced alternative that offers crisp, clear image quality regardless of prevailing weather conditions and light-gathering capabilities. More options about scopes are available in the addon section.
Safety
The Wicked Ridge Invader G3 has a dry-fire inhibitor and, therefore, cannot be fired accidentally without an arrow in place. Furthermore, the auto safety is always on after cocking, so you must manually disengage to fire. The Invader also has a pass-through fore grip that both strengthens your grip and ensures the safety of your fingers by keeping them away from the string path.
Additionally, the safety wings of reinforced nylon are designed to be a bit bigger than on most other models, and this also helps to ensure your fingers aren't near the string.
Durability
The sturdy build of this crossbow model ensures that it can withstand the toughest of hunting conditions. The fact that it is a compact, lightweight crossbow also means that it would not be as easily damaged as heavier ones in case it falls or experiences impact.
Even though it is a good quality bow, the Invader features a short warranty period of only one year. Take this into consideration if you're worried about damaging or breaking your crossbow in any way.
Pros
Lightweight and highly accurate
Self-retracting rope-cocking aid
Comfortable grip
Easy to assemble
Cons
A little loud
Low scope quality
No lifetime warranty
---
Add-ons
Since the package only contains three 20" carbon bolts, ordering a few more before setting out for a hunt would be best. We recommend the default Wicked Ridge 20-Inch arrows. While we don't consider them the best, they're the Omni-nock version that you have to use with this bow, and they do get the job done well.
Consider buying a high-quality case to ensure the bow is securely protected from impact at all times. Depending on what type of bow you get, the ACUdraw or ACU52 will already come included in your package, so there is no need for a separate rope-cocking device.
TenPoint Wicked Ridge WRE010.6 Crossbows 20" Aluminum Crossbow Arrows,...
SPECIFICATIONS: 20-inches long, 445-grain (with included 100-grain practice tip) 6-pack of aluminum arrows
Equipped with orange SuperBrite Omni-nocks which feature multi-channel string alignment that ELIMINATED IMPROPER LOADING...
Shafts include CPC inserts and are fletched with a slight offset using NOISE-ELIMINATING Norway DURAVANES (VANE COLORS...
Summary
The Invader G3, in fact, one of the very best value-for-money crossbows in the market. It packs many more features into its design than expected from its relatively low price point. You might be limited in the kind of game you can hunt due to its low power and the time of day you go hunting due to its poorly illuminated scope. However, you will certainly enjoy the lightweight and accuracy of the bow in short distances.
Newbies will love its comfortable grip, multiple safety features, and relative ease of use. We don't recommend this if you're a hardcore hunter, but if you're starting off or just want some target practice, this is a very affordable alternative.