Best Crossbow Scopes on the Market – Reviews
A professional and high skilled hunter would know the role a scope plays in his hunting experience. There is no shame in getting any help in your shooting experience to become the best shooter. Using the help of scope allows you to take down your target swiftly, accurately, and conveniently. They can be fixed with your weapon tightly where it cannot move.
Scopes come with an eyepiece and an objective lens. You can see a magnified and crisp clear image of your target captured by the objective lens. Apart from that, it comes with a reticle which is a pattern of lines that allows you to focus on your target correctly.
Also, scopes have turrets that offer adjustability of windage and elevation value, making your overall hunting experience convenient. Listed below are the 6 best crossbow scopes with tremendous qualities to boast. Be sure to buy Best Crossbow.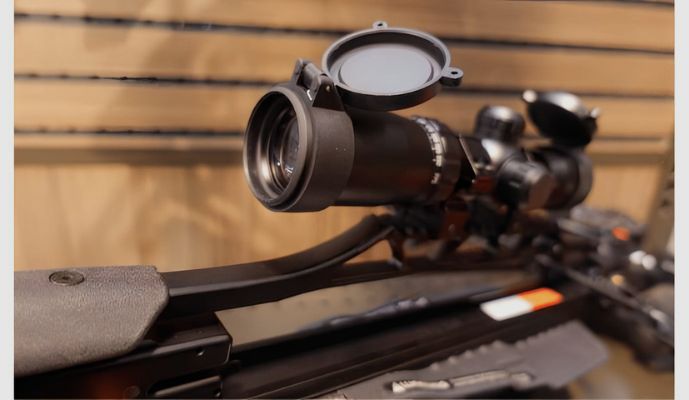 Expert Recommendations for the Best Crossbow Scopes
1. Vortex Optics Crossfire II – Best Scope For Crossbow Hunting
Vortex Optics Crossfire II 2-7x32 Second Focal Plane Crossbow Scope...
From first to last light, this 2-7x32 Crossfire II Crossbow Scope Kit (scope, 30mm rings, flip caps and neoprene cover)...
The XBR-2 reticle is specifically designed for crossbows for a 40-yard zero and fast, accurate holdovers from 20-100...
The magnification and FPS on the magnifier ring keep the scope compatible with a variety of bows and setups, and a wide...
Vortex Optics Crossfire II has gained popularity due to its accuracy and precision in taking down its aim. The scope is compatible with crossbows and has a pretty neat design. It comes with lens caps to protect them at all times. It comes with 30mm rings to fit it tightly on the weapon. Moreover, you will see finger-adjustable turrets with tactile clicks to adjust windage and elevation values.
If you look at the structure, you will find it promising in terms of durability and longevity. Vortex Optics Crossfire II is nitrogen purged, meaning it is water and fog-resistant. This scope delivers tremendous performance in almost all sorts of temperatures. Now coming to its technical ends, it comes with red and green illuminated reticles that allow for accuracy. Besides that, you also get substensions from 20 to 100 yards.
What we love about it is its extreme 7x magnification which you can conveniently adjust with a magnification ring. This scope allows you to see in different light conditions with ultimate clarity. You can adjust the sight illumination by turning the illumination control dial. Last but not least, the turrets are ultra-smooth, allowing you to adjust the windage and elevation easily.
Pros
Solidly built
Red and green reticles
Can aim up to 100 yards
Works in different light conditions
Summary
This crossbow scope takes the lead due to its outstanding features that make it accurate in aiming. It works amazingly in different light conditions, meaning you can aim with it at dusk or dawn. Not only that, but it also has a robust body that delivers impressive performance in almost all weather conditions. Lastly, the scope comes with flip-open caps for the lenses to protect them from any damage.
2. 1.5-5×32 Crossbow Scope – Top Crossbow Scope
Sale
MA3TY 1.5-5x32 Crossbow Scope, 20-100 Yards Ballistic Reticle, 300-425...
❤FOR FPS ADJUSTMENT, PLEASE SEE DESCRIPTIONS. Magnification Power: 1.5-5x magnification scope, aim points out to 100...
❤With Multi-layer coated lenses, light-transmission up to 93% for a much precise aiming on the target quickly....
❤Impact crossbow sight, shock resistance up to 1000G, full waterproof to 19.7" and fog-proof even under harsh...
If you are looking for a powerful scope with up to 100 yards of coverage, then MA3TY might be your best bet. The scope offers a magnification power of 1.5-5x, which is considered good for hunting. This scope offers wide viewing angles, and the image you see is bright and ultra-vivid. Its premium quality lens allows you to see the object as clearly as it is in reality from the farthest distance.
MA3TY 1.5-5×32 Crossbow Scope renders full adjustability for speeds between 300 to 425 fps. The lens of the scope is multi-coated, protecting it against weathering and scratching and gathering a lot of light. Consequently, you will see bright and clear images with all their details. The best thing we found about this scope is its upgraded reticle design which makes aiming much easier.
This scope is solidly built design-wise, keeping durability and strength in mind. It can bear up to 1000G impact, which is remarkable. The turrets on the scope are smooth for adjusting the settings. Besides that, the scope's body is robust and water-resistant, which means you can use it in all weather. Lastly, it is fully fog proof preventing any inconvenience during hunting.
Pros
Robust body
Impact-resistant
Multi-coated lens
Weatherproof
Cons
You might get some time to get used to it
Summary
This has to be one of the best crossbow optics you will find. First of all, it has a robust body that can withstand almost all kinds of weather conditions. It is water and fog-proof to offer the best hunting experience. The scope comes with a multi-coated lens and 100 upgraded ballistic reticles that provide crisp, clear images.
3. UTG 4X32 1″ Hunter Scope Black – Best Scope For Crossbow
UTG 4X32 1" Hunter Scope, Mil-dot, Airgun Rings, Adj@35 Yds , Black
Built on True Strength Platform, Completely Sealed and Nitrogen Filled, Shockproof, Fog proof and Rainproof
Premium Finger Adjustable Target Turrets with the Most Consistent and Precise 1/4 MOA per Click Wind age/Elevation...
Sapphire Coated Lenses to Achieve Maximum Light Transmission for the Best Clarity
First, on our best crossbow scopes review list is the ultimate UTG 4X32, a hunter's best friend in his hunting ventures. This scope has a simple and clean design, and its durability is unbeatable. It is built on a true strength platform which means it has uncompromising durability and longevity. Besides, it only weighs 13.1 ounces meaning there isn't much addition of weight when you install this scope on your crossbow.
We loved its sapphire-coated lens, and there are many reasons why you would prefer a sapphire-coated lens over any other. For instance, such lenses are UV resistant, repel water, prevent glare, and scratches, are smudge-proof, and so on. Not only that, but the lens of this scope provides 4x minimum and maximum magnification, which is considered good in hunting sports.
In addition to that, the scope has an eye relief of 3.4 inches which is considered good and convenient. That's not all; you also get finger-adjustable turrets to adjust the windage and elevation values. The mil-dot reticle keeps the target insight and allows for accurate shots. All in all, you get to see brightly lit images in this well-built scope for precise, quick, and accurate hunting.
Pros
Lightweight scope
Accurate aiming
Sapphire coated lens
Adjustable turrets
Cons
Mounting issues faced by one customer
Summary
This scope will solve all your issues regarding hunting. It consists of all the necessary features that come in handy during hunting. First, it is ultra-light, making aiming and shooting convenient. Besides, you can easily adjust the windage and elevation values with the tip of your finger. It also has a top-quality sapphire-coated lens, giving you a crisp, clear image.
4. Vortex Optics Crossfire II 3-12×56 – Best Crossbow Scope For Low Light
Sale
Vortex Optics Crossfire II 3-12x56 Adjustable Objective Hog Hunter,...
The 3-12x56 Adjustable Objective Hog Hunter Crossfire II riflescope excels when hunting in the lowest light. The V-Brite...
The adjustable objective provides image focus and parallax removal to the shooter while anti-reflective, fully...
With long eye relief and an ultra-forgiving eye box, you'll be able to quickly get a sight picture and acquire your...
If you are tired of your low-performing inaccurate crossbow scope, then you ought to try Vortex Optics Crossfire II for a change. This simple yet elegant-looking scope comprises amazing features that elevate your hunting experience. This scope has a V-brite reticle that lets you take down your target quickly.
Moreover, this scope works great in low-light conditions as the lens gathers maximum light. Besides, you can hunt from a heavy cover due to its large-sized objective. The objective lens is fully adjustable, which allows you to eliminate parallax and fully focus the image. Talking of the lens, it is multi-coated, which makes it anti-glare and fog proof which is a treat to the hunter.
In addition, this premium quality lens provides the best image with ultimate clarity, which aids you in taking down your target. Not only that, but it also comes with a long eye relief that allows you to catch your target almost instantly. Also, it comes with capped turrets that allow for smooth adjustability. Last but not least, this scope is made with aircraft-grade aluminum making it durable and hard-wearing.
Pros
Tough body
Weatherproof
Multi-coated lens
Smooth adjustability
Summary
In summary, this premium-quality scope offers a great hunting experience. You will not miss a single target if you have this scope. Firstly, it is robust as it is built with aircraft-grade aluminium.
Moreover, you get turrets that allow for smooth adjustability. The lens is also of premium quality providing crisp and clear images. Last but not least, the lens is fog proof offering convenient hunting.
5. UTG 3-9X32 1″ BugBuster Scope – Best Crossbow Scope On The Market
Sale
UTG 3-9X32 1" BugBuster Scope, AO, RGB Mil-dot, QD Rings , Black
1 Inch Tube with Emerald Coating for Maximum Light Transmission, Premium Zero Lockable & Resettable Turrets with 1/4 MOA...
Range Estimating Mil-dot Reticle for Optimal Aiming and Shooting Performance, Adjustable Objective from 3 Yards to...
Red/Green Dual Illumination for Versatile Applications, Large Field of View and Most Accommodating Eye Relief for...
Another flagship production by UTG is this supreme crossbow scope boasting some advanced features that hunters prefer. The design and build quality of the scope speak for themselves. The feature that we love the most about it is its lightweight. It weighs only 0.87, which means you aren't adding much weight to your weapon.
In addition, this one-inch tube is equipped with an emerald-coated lens that allows for maximum light transmission. UTG 3-9X32 fits tightly on your weapon, giving you a smooth and remarkable hunting experience. You will not miss a single target with its precision and extreme performance. This scope also comes with zero lockable turrets, which allow you to make adjustments with ultimate smoothness.
Adding to that, the scope has a mil-dot reticle that catches your target with accuracy. Moreover, the objective is also adjustable. You can adjust the value from three yards and onwards. It offers a large field of view, and the image you will see will be crisp and clear even in dim light conditions. Last but not least, this crossbow scope is ultra-durable and has flip-open lens caps to protect your lens from any damage.
Pros
Durable construction
Smooth turrets
Large field of view
Emerald coated lens
Summary
Overall, this remarkable crossbow scope is a game-changer in hunting. It comes with premium lockable and resettable turrets that are ultra-smooth. In addition to that, this product is ultra-light, which makes the hunting experience one of a kind. Lastly, its emerald-coated lens offers a large field of view and allows for maximum light transmission.
6. UTG 4X32 1″ Crossbow Scope, Pro 5-Step RGB Reticle
UTG 4X32 1" Crossbow Scope, Pro 5-Step RGB Reticle, QD Rings
Built on Robust True Strength Platform with Smart Spherical Structure(SSS) to Achieve Most Precise and Accurate - Wind...
Superior Quality Precision Broadband Lens Coating Offers the Brightest Image and a Generous Field of View
Premium Zero Lockable and Resettable Target Turrets for Wind age and Elevation Adjustment
You can never go wrong with UTG 4X32 if you want accuracy and precision. First of all, we loved its robust build, which is the dream of every huntsman. Spend your hard-earned money on this scope, and you will have years-long services. Its smart spherical structure allows you to quickly take down your target with accuracy. Its robust build makes it stand firm to recoil and delivers tremendous performance.
UTG 4X32 allows for many adjustments to meet all your requirements. For instance, it comes with windage and elevation adjustment knobs that allow you to aim accurately at the target. We love its premium quality lens that captures maximum light to deliver the brightest image. Besides, this high-quality broadband lens covers a wide field of view, so you don't miss any details.
The turrets on the scope are smooth and unlockable, preventing any inconvenience during the hunting session. You can easily adjust the windage and elevation adjustment according to the environment. You get to see RGB reticles and 5 horizontal lines allowing easy aiming. Each horizontal line is for aiming at a specific distance. Lastly, you also get control over illumination, which comes in handy in different light situations.
Pros
Robust built
Smooth turrets
Broadband lens
RGB reticles
Cons
Tightening issue reported by one customer
Summary
Overall, the scope is best for all kinds of hunting for its accuracy and precision. It has some fantastic features that make it one of the best crossbow scopes. For instance, you get RGB-illuminated reticles with 5 horizontal lines for hunting at different yards. Moreover, it also comes with windage and elevation adjustments that make hunting convenient.
Factors To Consider While Buying The Best Crossbow Scopes
There are many factors to consider before purchasing. A hunter wants accuracy and precision from his scope; therefore, you would want your scope to provide all that. Not just that, your scope should render impact resistance and weatherproofing to provide long-lasting services. Let us discuss some factors to consider before purchasing the crossbow scope.
Weight And Balance
Some might overlook this factor, but it is perhaps one of the most important things you should consider. Hunting requires a lot of patience and quiet time. Therefore, you wouldn't want your weapon to be too heavy, which might leave you exhausted. Make sure you opt out for the scope that doesn't add much weight to your crossbow. In addition to that, attaching a scope should always balance out the weight. It would be best to go for a 1-inch tube with a 30mm objective.
Magnification
Magnification plays a vital role in hunting and shooting. Always check for the magnification power of the scope before purchasing it. Some Optics come with fixed magnification, while others with variables. We would always suggest going for the ones with variable magnification as such lens provide multifunctionality. If you are up to hunting at 100 yards, then a scope with fixed 4x magnification or variable 3-9x magnification would do fine. However, for long-distance hunting, you must get your hands on a scope with a magnification power of 12-20x for greater accuracy.
Reticles
Most of the high-end scopes come with reticles that significantly help you aim your objective with accuracy. Getting a scope with a reticle is a plus; it helps take down as many targets as possible. A reticle is a black, red, or green-coloured marker that allows you to focus exactly on the target. Some of the scopes also come with multiple reticles. Multiple reticles are horizontal lines on the field of view that allows for hunting at different distances.
Illumination Option
This factor is a major plus for hunting in low-light conditions. If you have a scope with no illumination adjustments, you can only use bright-lit objects to see the reticle clearly. It is best to opt out of the scope that offers an illumination option that allows you to illuminate the reticle to a red or green colour to see it on dark-coloured objects.
Lens
To see a bright and clear image, you ought to pick the scope with a premium quality lens. Having the scope with a high-quality lens will make hunting 10 times easier. Moreover, the good quality lens also allows you to see every detail with ultimate clarity. Besides, you can also consider a multi-coated lens that gathers more light to deliver a brighter and clearer image. In addition to that, you can consider a nitrogen-coated lens that is best to offer protection against water and fog. Last but not least, get a wide angle to increase your field of view.
Durability
Durability is a factor you should never forget to consider. Most of the high-end scopes are durable and impact resistant. Before buying a scope, ensure they are weatherproof to allow for hunting in varying weather conditions. Also, make sure your scope is highly impact-resistant to offer long-lasting services. Last but not least, always go for a high-quality lens as such lenses are scratch and smudge-proof.
Frequently Asked Questions
Conclusion
Crossbow scopes add a lot of convenience to the hunters in their hunting ventures. The scope allows for better visibility and aiming at your targets. With scopes, you will not miss a single target, for they provide accuracy and precision. From the above listing, our top recommended products with some amazing features are as follows.
If you attach a scope to your crossbow, you will have 10 times better hunting experience. The scope allows for clarity while aiming at your target, no matter how far it is. All the products listed above are manufactured by top-ranking companies that are authentic and reliable. These scopes possess some amazing qualities which make them popular among hunters.