CP Sniper 370 – A Compound Crossbow Review
The CenterPoint Sniper 370 is the most suitable crossbow for entry-level archers and hunters. It contains excellent features and is a highly reliable crossbow. The design of this compound crossbow features split limbs and a CNC-machined aluminum riser and stock. This adds to its strength, versatility, and visual appeal.
It comes either in a non-reflective black or a combination of black and jungle camouflage to help you blend in with your natural surroundings while you are out whitetail hunting. Many hunters say that the performance of this bow is far beyond its typical price, making it one of the most cost-effective options we recommend.
Let's examine its performance in each category to see what makes the CenterPoint Sniper such a great crossbow.
Our Top Pick
CenterPoint Sniper 370 – Crossbow
Specifications:
Velocity: 370 fps
Draw Weight: 185 lbs
Length: 36
Crossbow Weight: 7.7 lbs
Power Stroke: 13.5
The CenterPoint Sniper offers incredible power, durability and safety. At its extremely budget-friendly price, it's hard to complain about anything, and we highly recommend it for newbies.
What's Included In Sniper 370 Package
CenterPoint Sniper 370 Crossbow
4×32 illuminated scope
Rope cocking device
Three carbon arrows
Shoulder sling
Instruction manual
Warranty card
CenterPoint Sniper 370 Crossbow Detailed Review: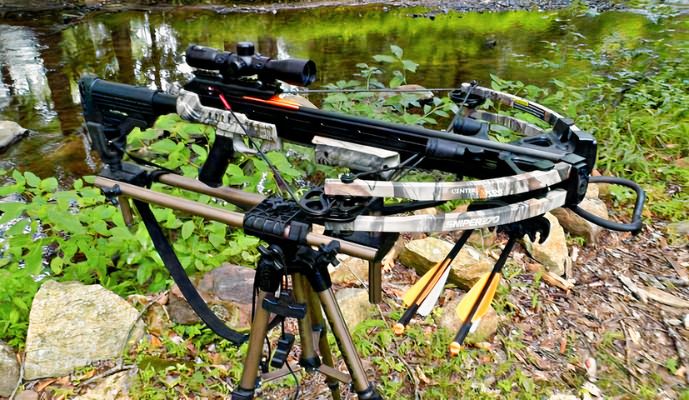 Power
This crossbow shoots arrows at a remarkable velocity of 370 fps, dealing out about 130 FPKE. Considering that the average kinetic energy needed to take out the largest game is about 75 FPKE, this budget-friendly choice will not limit you in any way when hunting bigger games.
The CP Sniper offers great reliability and accuracy for any shots within a 40-yard range. Some hunters have claimed to have hit bulls-eye even at a 50-yard field. Its sheer power and accuracy, combined with the CNC machined cams and quad limbs, make it a great weapon.
User Comfort
The package of the CenterPoint 370 comes complete with an illuminated scope, a shoulder string, a four arrow quiver, three 20" carbon bolts, and a cocking rope. Most of these additional features are usually sold as separate accessories for numerous other models; therefore, their inclusion in this package is a great plus for the model.
There is a manual provided, but it's not the best. Anyone with experience assembling crossbows will find it easy, but a newbie might need assistance. Once it is set up, the bow is exceptionally comfortable to operate. It uses an adjustable foregrip and buttstock, which means you can choose the most convenient set-up. Non-adjustable stocks often make it slightly awkward to shoot correctly, so that you won't have that problem with this crossbow.
In addition to being compact and lightweight, this crossbow's shoulder strap makes it extremely easy to carry around. It also has a pistol grip that ensures much-needed speed when you spot prey. There is a large amount of creep on the trigger, which is meant to prevent premature release but also makes it hard to take a quick shot.
This feature takes some getting used to, primarily if, in the past, you have hunted with a smooth-trigger crossbow. However, if it is your first experience with a crossbow, it wouldn't make a huge difference.
If you don't want to limit your initial usage to target practice, you might want to invest in a better choice. The three bolts that come in the package could be more impressive. The bolts have 375 grains, which will not do the crossbow justice in terms of performance. The replacement should be between 400 and 425 grains, as recommended by the manufacturer.
Even though the bow has a relatively high draw weight, the inclusion of a rope-cocking aid makes cocking the device a breeze. The string does not stack at all when pulled back. The only discomfort that would arise from using the bow would be from its relatively heavy front. Whitetail hunters who prefer taking shots from the ground blind or a tree stand won't be affected by this, but if you want to use the crossbow for still-hunting, you need to be prepared for a bit of exertion.
Noise Suppression
This crossbow includes string suppressors that significantly reduce vibration, which reduces noise output and enhances accuracy. The foot stirrup is also coated with rubber for the same purpose. Many hunters will still opt to add more serious dampeners to make it all the quieter to ensure that easily startled prey like deer does not have the opportunity to get away.
Quality of Optics
The illuminated scope in the package features crosshair and circle reticles in red and green and has a calibration set for up to 40 yards. , It has five levels of brightness that make it possible to enjoy hunting practically any time of day.
Sighting it is easy, and it holds zero almost indefinitely. Even though its illumination is not exactly top-notch, it still makes a remarkable difference, enhancing accuracy even in foggy weather. This scope is mounted on CNC-machined aluminium rails that include a shoot-through riser.
Safety
A crossbow is a weapon like any other and, as such, might be dangerous to the user if not handled with care. For this particular model, a lot of diligence has gone into ensuring you do not inadvertently cause harm to yourself or others in the use of it. The CenterPoint Sniper features a multilevel safety framework that you must greatly compromise to get yourself into trouble.
First, it has an anti-dry fire mechanism to ensure that you do not fire by accident when it is not fully cocked. When you want to cock it, the proper procedure would be to turn off the safety before engaging and only then should you pull the string back. An extra feature that makes the device particularly handy is that the safety release can easily operate using either hand. This ambidextrous provision is a rare inclusion not found in many models.
Furthermore, the foregrip is located below the bow's rail, implying that if you still manage to fire accidentally, your precious fingers will be safely out of harm's way. The final necessary safety provision includes a cocking device; proper cocking means the bow is evenly balanced on both sides. Therefore, the probability of an off-shot is next to none.
Durability
The choice of material on this crossbow goes a long way in ensuring it serves you for quite a while. Unlike regular cast aluminium, the CenterPoint Sniper uses machined aluminium, which has a higher tolerance and fewer irregularities, enhancing the crossbow's life expectancy.
The CP Sniper 370 comes with a five-year warranty, and if you strive to follow the manufacturer's instructions to wax the rail after every 15 or so shots and keep the bow generally clean, it should serve you for a good number of years. For the warranty period, the manufacturer covers all of its parts, apart from accessories and strings.
Pros
High velocity
Light and compact
Adjustable grip and stock
Extensive package with all accessories
Cons
Lots of creep in the trigger
Front heavy
Vague assembly instructions
Assembling The CP Sniper 370 Step-By-Step Guide
---
Add-ons
This crossbow comes with almost everything needed for a great outdoor adventure. Many people have said that they work exceptionally well with this crossbow. The CP Sniper is customizable, so feel free to change things. As usual, we do recommend getting the Carbon Express bolts.
Sale
Carbon Express PileDriver 20-Inch Fletched Carbon Crossbolt with...
BONE-CRUSHING PENETRATION - Heavy grain weight creates maximum kinetic energy and greater knock-down power
ADVANCED CONSTRUCTION - Ensures spine consistency for greater accuracy. The composite material is extremely durable at...
REAL STRAIGHTNESS - Precision sorted for straightness to +/- 0.004", for repeat maximum consistency
Conclusion
Considering this crossbow's relatively low price point, it performs much better than expected. Hunting pros may feel inconveniences associated with its trigger creep and the fact that it is front-heavy.
Newbies might have difficulty setting it up the first time. But all in all, it is a remarkable budget-friendly weapon capable of taking out even the largest game with relative ease.