Top 5 Affordable Crossbows for the Budget-Conscious Hunter
The increasing familiarity of hunters with crossbows increases the competition for the best crossbows with the best specs and features. In this situation, you cannot select the best low-cost crossbow when so many options are displayed. To help you with your search, After hours of research and testing, I have handpicked these 5 budget-friendly crossbows that offer exceptional speed, unbeatable value, and outstanding performance. Whether you are a beginner or a pro, these crossbows will not disappoint you.
Each of the crossbows mentioned below contains the direct link for purchase, advantages, disadvantages, and all the specs that are present in it. What you are asked to do is to focus on the details before finalizing the product.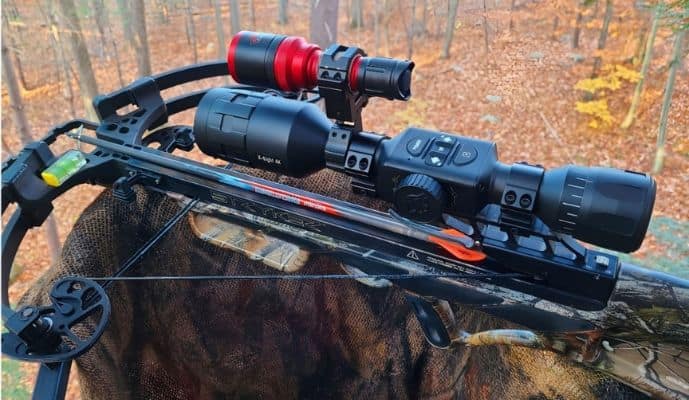 Top Pick of the Best Budget Crossbow
Are you in a rush? Here's what we think is the best option for you: Here is Three best Option For You.
Beginners Choice
XtremepowerUS Hybrid Crossbow
Precise shooting
Comes with all essential accessories
TOP PICK
Barnett Wildcat Camo Recurve Crossbow
Lightweight
It comes with 3 Picatinny rails
BEST CHOICE
K EXCLUSIVE Recurve Crossbow
Contains laser dot scope
Durable aluminum construction
The Best Budget Crossbow – Reviews
As a passionate hunter, I have personally tested and reviewed countless budget crossbows. And I am excited to share with you my top 5 picks that not only won't break the bank but also offer superior construction and performance. These crossbows will elevate your hunting experience and make it even more exciting and enjoyable.
1. XtremepowerUS Hybrid Crossbow – Best For Beginners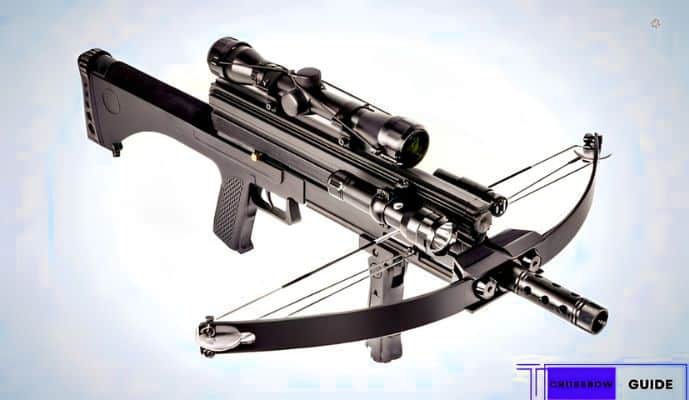 Accurate shooting, effortless use, and affordability! What else do you want from your crossbow while hunting? The fabulous and unmatchable XtremepowerUS Hybrid Crossbow comes with such features that make it stand in our top place of best crossbows. The adjustable feature in the foregrip and stock makes the adjustments of 0-2.5″ possible to fit the crossbow on the shoulder as needed.
Moreover, 160 FPS value is enough for shooting on long distances accurately and fastly. The incredible construction with the use of aluminum and composite material not only provides strength to the crossbow but also adds to the durability factor making it the top best cheap crossbow on the list. Although it is the most reasonably priced crossbow, it has not yet compromised quality.
Furthermore, the 90-day extended warranty makes it more reliable for beginners to contact manufacturers reliably if needed. One thing that makes it more popular among most users is that it comes with all the essential accessories required for its use. It contains a laser, two arrows, and 200 BBs when it arrives.
Pros
Precise shooting
Comes with all essential accessories
3 months warranty
Cons
Comes with no instructions
Summary:
XtremepowerUS Hybrid Crossbow is best known for its accuracy and precision. Because of being affordable, it is trendy among the users, specifically beginners. Moreover, it is effortless to use and very easy to operate, highly recommended by professionals to their young shooters. This crossbow comes with all the necessary tools and accessories to function.
2. CenterPoint Tyro 4X Recurve Crossbow – Best For Portability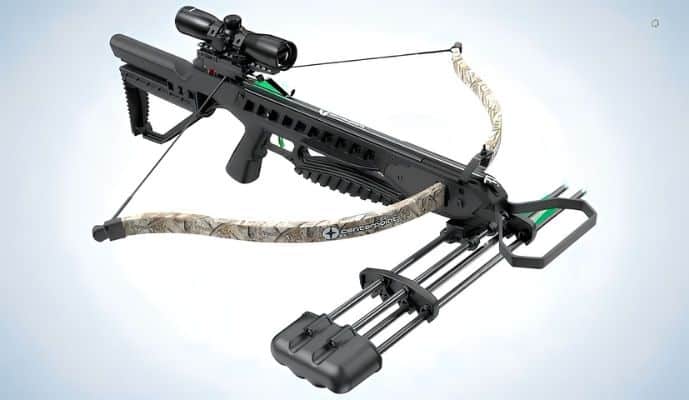 With 5 pounds of weight, the 245 feet per second speed makes it the lightest and superfast crossbow available in the market. The recurve design of this crossbow is not only for professional hunters and shooters but also is ideal for beginners, even kids, and adults. Moreover, because of being effortless to operate, this crossbow is recommended for those who are experiencing shooting for the very first time.
This crossbow comes with various features making it more in demand day by day. Moreover, because a structure is designed in a compact form, it is straightforward to carry from one place to another, making it convenient for the shooter to take it everywhere. Additionally, the five years long warranty provides users with the opportunity to contact manufacturers in case of need.
CenterPoint Tyro 4X Recurve Crossbow has an anti-dry firing feature and auto safety characteristics. The most positively reviewed by the users is that you are not required to buy anything for its assembling from the outside. This is because all of the essential accessories come with this product when you buy it.
Pros
Lightweight and compact
Portable
245 FPS
Cons
Quality isn't appreciable
Summary:
CenterPoint Tyro 4X Recurve Crossbow is a recurve crossbow made in a design to deliver 245 FPS speed. This product is very light in weight with only 5 lbs and compact in structure to make sure you can carry it any way you want. Moreover, the availability of storage compartments in the foregrip region allows you to store multiple items here.
3. Barnett Wildcat Camo Recurve Crossbow – Best For Advance Features
Barnett Crossbow has been the topmost reliable and trustworthy name in crossbows since 1952. Barnett Wildcat Camo Recurve Crossbow comes in a package that contains all the necessary accessories. It's affordable, accessible, and straightforward to use without any complications. They measure 35.5 inches total length and around 32 inches without the stirrup and an uncocked axle to axle width of 28 inches and 22 inches after cocking.
Along with that, these lightweight crossbows tip is only about 4.8 lbs. Make sure this weight is just of the crossbow without accessories. This Wildcat from Barnett is the most comfortable crossbow to hold on the shoulder. Besides that, the crossbows have three Picatinny rails, providing you the space to attach your extra equipment, like optics and flashlight.
These crossbows come with an anti-vibration foot stirrup which allows you to hold on to the bow in an accurate position while shooting. This makes your shooting more precise and perfect. Moreover, they have track-mounted string minimizers, which reduce the string vibration and make the crossbow's functioning noiseless. Hence, you will be able to concentrate ideally while shooting.
Pros
Lightweight
It comes with 3 Picatinny rails
Anti-vibration foot stirrup
Summary:
Thus, in the presence of this Barnett Wildcat Camo Recurve Crossbow, you will hit your target more accurately and precisely without missing it. Most importantly, they have high-quality 18 inches aluminum arrows included in the pack.
You will have a fantastic hunting experience with this package. When it comes to the optics, the Barnett Wildcat has a better quality red dot sight. This will provide you with the most significant hit on moving objects.
4. K EXCLUSIVE Anaconda Recurve Crossbow – Best For Durability
The K EXCLUSIVE Avalanche Anaconda Recurve Black Crossbow is considered one of the best crossbows. With its unique features, it is distinguished from other products on the list. This kit is perfect for professionals and beginners because it includes everything you need without buying things separately. This makes it pocket friendly and an excellent cheap crossbow for every level user.
This crossbow has a robust 33-inch composite construction from the foot to the top. Moreover, it has a draw weight of 175 lbs, with which you can effortlessly hit your target without missing any angle. In addition to that, this crossbow comes with a 16 inches arrow. It means you are not required to buy it separately. They are aluminum arrows that are known for their precision and durability. Therefore, you won't go wrong with your hunting.
Furthermore, it also includes wax, a sling, cocking rope, and a quiver. Keep in mind you need all of these items with you in your hunting bag during hunting because these are the supplies that make the shooting of a target accurately perfect, and effortless. Let's not forget the laser dot scope that comes with this crossbow. You can attach it to the Picatinny rail, making itself beneficial while hitting your prey!
Pros
Contains laser dot scope
Contains all accessories
Durable aluminum construction
Summary:
K EXCLUSIVE Avalanche Anaconda Recurve Black Crossbow is a crossbow that is renowned for its durability and longevity. This longevity comes from aluminum construction. This product is popular among most professional shooters because of all the necessary accessories. This makes it not only efficient and complete but also budget-friendly as you are not required to buy the extra necessities separately.
5. Southland Archery Recurve Hunting Crossbow – Best For Style And Power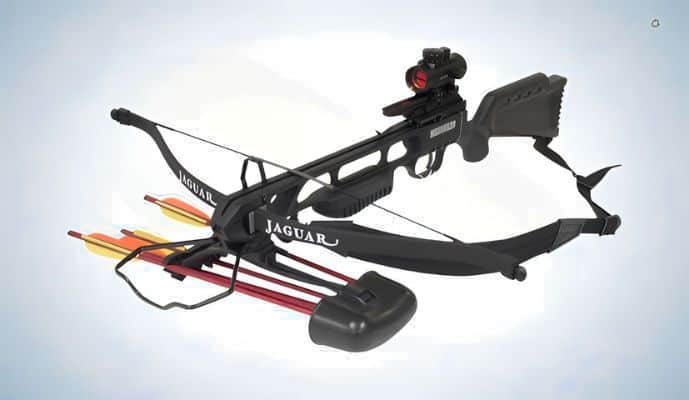 Are you looking for something stylish and strengthened within an affordable range? Southland Archery Supply SAS Jaguar is the best budget crossbow explicitly made for you. This is a heavy-duty crossbow made with aluminum construction material to make it long-lasting and robust enough to withstand severe surrounding impacts and situations.
The draw weight is only about 175 lbs making it easy to carry in hands and shoulder. The complete package includes a removable bow quiver, a sling, bolts, and a red dot sight. This best budget crossbow not only contains these accessories but also has a stringer, safety goggles for the security of the user, and rail lube. Along with that, the 16-inch arrows in this kit travel up to 245 FPS.
Which is an excellent and outstanding speed to hit the target without missing the angle and directions. The kit also includes red dot scope for precision and a bolt quiver. This dot scope ensures you are hitting the arrow precisely at the point and are getting maximum results without any missings. Further, it comes with a shoulder strap to make it convenient for you to hold for a longer time without tiring yourself.
Pros
Complete kit
Affordable price
Stable
Comfortable while shooting
Red dot sight
Shoulder strap
Cons
Not readily available
Difficult to cock
Summary:
Having the best budget crossbow isn't tricky now because the Southland Archery Supply SAS Jaguar 175lbs Recurve Hunting Crossbow will give you a fantastic hunting experience as it is placed in our 5th top position in the list of best budget crossbows.
With the 16 inch arrow, you won't miss a single target in front of you. Moreover, this marvelous red dot scope makes you point to your target without complications during moving target shoots. Hence, this complete kit is worth the money you spent.
what should you look for, When buying a budget crossbow?
Buying the best budget crossbows might be on your agenda list but how can someone find the best if he is unaware of the qualities or the characteristics that singularize a particular crossbow as the best amongst all.
It means that you need to educate yourself about the features that you should be looking for in a crossbow if you want to get the best value for your money. So, here is a buying guide on the best budget crossbows that should be able to pave a path for you towards getting the best crossbow you can get within your budget constraints.
1. Overall Weight Of The Crossbow
It is a simple rule, the lighter the crossbow is the better chances are for you to be able to handle it more precisely. Extra weight simply acts as a diversion, taking your mind off the target as you try to manage the crossbow. So, you should better be able to gauge the amount of weight you can comfortably handle before you purchase a crossbow because you definitely don't want to end up with a crossbow that is too much of a fatigue for you to hold, let alone use it on the field.
2. Speed Of The Arrow
The second most important thing you should consider while purchasing a crossbow is the speed with which it throws the arrow in the air. There is no denying the fact that the arrow thrown at a lower speed stands a greater chance of missing the target. So, you must check out the speed of the crossbow before you make the transaction. The higher the speed, the better and more accurate hunting experience you will have.
3. Safety Features
Safety is yet again one of the most important things you must consider while buying a crossbow especially if you are at the beginner stage. The more efficient safety features your crossbow has, the more confidently you will be able to handle it. Some of the most common safety features found in most of the crossbows these days are auto-lock, safety trigger, and so on.
4. Noise
You definitely don't want to scare away the animal before the arrow even leaves the crossbow. So, you need to get a crossbow that makes the least bit of noise when you cock the crossbow or pull the trigger. However, you may also use a silencer with a crossbow if it is making loud noises.
5. Price
What good will a crossbow do to you if all you can do with it is stare at it from the window sill, sigh at the price tag and get on with your life? The best way to avoid that is by setting a budget for yourself and then finding a in that price range.
frequently asked questions
Conclusion
Concentrate on each of the following products discussed above and the descriptions it carries to make sure the crossbow you are selecting is perfect and best in its way. You should not ignore quality and functioning while choosing the best budget crossbow. Make sure you have understood all the details above before finalizing your product.